Why Use a Pressure Cooker at Home? Pressure Cookers Shorten Cook Times, Concentrate Flavors, Preserve Nutrients, Save Energy, and are Easy to Clean Up.
1. Pressure Cookers Cook Food Fast!
Modern pressure cookers can cook meals in under a third of
the time it takes to cook using conventional methods.  You'll save time and energy, and find that
it's much easier to put together a pressure cooked meal.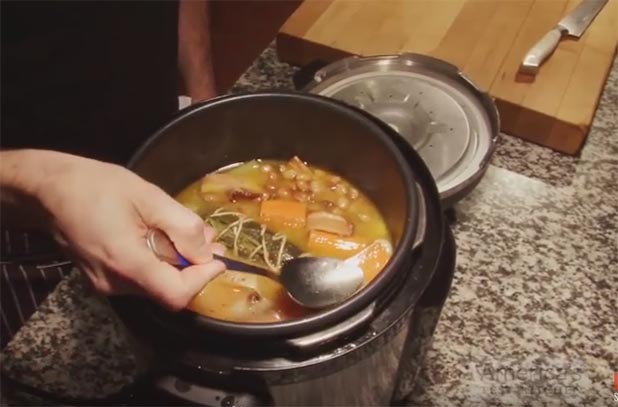 Every modern kitchen needs a pressure cooker.  You can make stews, soups and other meals
that taste like you worked in the kitchen all day, but are done in about an
hour or less.
One night, when trying to figure out what I was going to
feed my busy family and me for dinner, I realized this was the number one
reason we regularly use our pressure cooker.
Too often, we're coming home at different times, each of us
with different schedules, with nothing planned for dinner.  If you are concerned about not having enough
time to make a home cooked meal, I encourage you to use one.
The fastest and easiest way to feed multiple people on the
go is to throw some wholesome ingredients into the pressure cooker for a few
minutes, and voila, instant delicious meal for the whole family.
It's fun to use at home.  Pressure cookers are fast!  You can cook it all in one pot and it cooks so fast.  Chefs may use a pressure cooker if they're under a deadline.  It's really amazing what it can do in such a short period of time.
2. Incredible Flavors to be Had
Stews, Beans, Roasts and other dishes are done in a flash
with flavors and textures that are incredible.
Because they're sealed, pressure cookers don't need much cooking
liquid.  Flavors are really concentrated.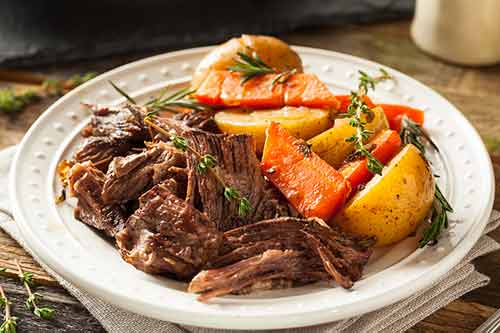 It's great for dried beans.
If you soak dried beans over night, they'll cook in 13 minutes in your
pressure cooker.  Cook them together with
Beef, Pork or Chicken and your meals are done in a flash with flavors and
textures that are incredible.
Because it's pressurized, flavors from meat are infused into
the beans or vegetables.  Root vegetables
will cook in 3 or 4 minutes.
Pressure cooking fish will really seal in its flavors.
Rice can be done in 12 minutes, half the time it usually takes.
The flavor of boiling things in an open pot causes the
flavors to leach out into the water. Whether it's salted or seasoned or not, much
of it boils out to dilute the flavor.
With pressure cooking, flavors and nutrient all stays condensed inside
the vegetables.  This is exactly what you
want when you're cooking food.  You want
to be able to taste all of those flavors.
Cooking under pressure really seals in the intensely
wonderful flavors, and makes meats very tender.
Food that comes out is tastier, more succulent and more evenly cooked.  Throw something into a pressure cooker and taste it and you'll be saying, "Wow, that's pretty good!"
3. Improved Nutrition
You want to preserve the nutritional value in the foods you
cook as much as possible.  Vitamins,
enzymes and phytonutrients can be damaged by heat.  Pressure cooking is no different.
You will steam-cook your vegetables perfectly to tenderness,
without being mushy, all while retaining all their glorious colors, nutrition
and flavor.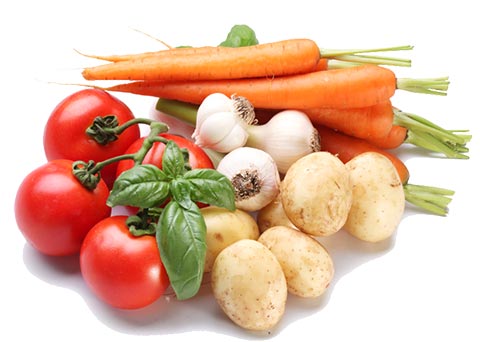 Steam-cooking vegetables in your pressure cooker helps
retain more of their vibrant colors, phytonutrients, vitamins and enzymes, to
provide more nutrition for you.
Phytonutrients are what gives vegetables their vibrant
colors.  They are nutrients for plants
and are a natural defense against oxidation.
When we consume them, they provide us with antioxidant properties, that help prevent damage to cells throughout the body.  Many studies have shown that phytonutrients reduce the risk of cancer, heart disease, stroke, other diseases and slows aging.
4. Improved Safety of Today's Pressure Cookers
Today's pressure cookers are very durable and safe.  They are a really amazing tool.  Once you know how to do it, it's really easy,
and very convenient.
Pressure cookers look like big sauce pans or stock
pots.  They have a silicone or neoprene gasket
in the lid that provides the seal needed to build pressure.  Inter-locking notches on both the lid and pot
allows you to firmly and safely lock the lid onto the pot.
For additional safety, locking handles prevents opening before the pressure is released.
5. Energy Savings and Space Savings
Once an electric pressure cooker reaches operating temperature
and pressure, it then only needs a very small amount of heat to maintain
that.  If you're using a stove top
pressure cooker, then you can turn that burning down to low.
Modern, 3rd-generation, pressure cookers allow little or no
steam to escape during cooking.  This
means that you use less water, lose fewer nutrients, and cook more efficiently
and faster than with older pressure cookers, which continuously released
pressure and moisture through a valve.
If you're using an electric pressure cooker, it then only
needs a small trickle of electricity and it'll reduce the energy
automatically.  Additionally, because
your pressure cooker operates for a much shorter time, you use much less energy
than conventional methods.
An electric pressure cooker allows you to add the ingredients, set the time and start it and then you can walk away without having to baby-sit it.  That's the huge benefits of the electric cookers.
6. Convenience
Today's Pressure Cookers are sturdy and have automated temperature settings built into them, so they're really easy and safe to use.  It'll take up little space on the counter or stove.   You'll also find that clean up is faster and easier too!
Cooking in a pressure cooker makes the big job of meal
making to a simple one.  Once I started
using one at home, I realized how easy and fun it can be to make all types of
meals or desserts.
Pressure cookers are convenient and versatile when time and
space is limited, allowing you to create an amazing dinner in under an hour.
You won't realize how easy and even fun it can be, until you use an automated
one.
You can braise, poach, boil, bake, or steam-cook your food in a pressure cooker.  You can turn inexpensive tough cuts of meat, such as shoulder, brisket or leg cuts, and turn them into super-tender and delicious, mouth-melting meals.  You'll be amazed at how easily your pressure cooker will do this for you.
7. Re-emerging Popularity
Because of their re-newed popularity, there are hundreds and
hundreds of free recipes or recipe books made specifically for the pressure
cooker and electric pressure cookers.
In the 1950's, pressure cookers were widely used among chefs
and in the home.  Today, with the
introduction of easy-to-use programmable electric models, with improved safety
features, interest in pressure cooking has exploded in the last few years.  Even a few professional chefs have
rediscovered pressure cookers.  Those
that have love them for all the reasons we've talked about.
When boiling vegetables in water, all their nice flavors, nutrients, and
even the color runs out of them, but with a pressure cooker, it all stays
condensed inside the vegetables, which is what you want when you're cooking
food. You want to taste those flavors and benefit from the nutrients.
Your cooker will bring the temperature and the pressure up so that none of the flavors and aroma can escape from your ingredients. For people that are concerned with not having enough time for a home-cooked meal, a pressure cooker is perfect. Foods are tastier, more succulent, and more evenly cooked.
Conclusion
So you have a much more energy-efficient appliance, and a
quicker cook-cycle, which means less leaching, so your food retains more
delicious flavors and nutrients.  Your
cooked vegetables and fruits retain more of their vibrant colors and healthful
phytochemicals.
So not only are your meals easier, they're quicker, more nutritious and more flavorful for you and your family.
Visit our Home Page to see view the latest posts about using your pressure cooker.