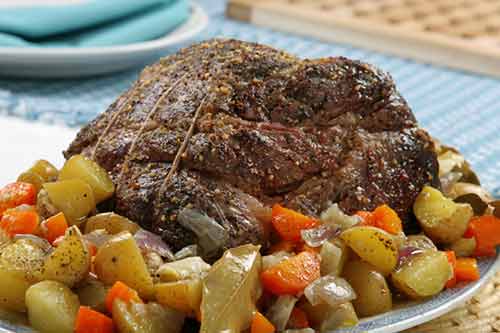 PPressure Cooking Pot Roasts Makes the Meat Incredibly Tender and Infuses Your Entire Meal with Wonderful Flavors that you and your Family Will Love! What's better is that it's extremely easy with your Pressure Cooker.
Note: This works great in Stove-Top or Electric Pressure Cookers.
Ingredients:  Amounts and sizes don't have to be exact.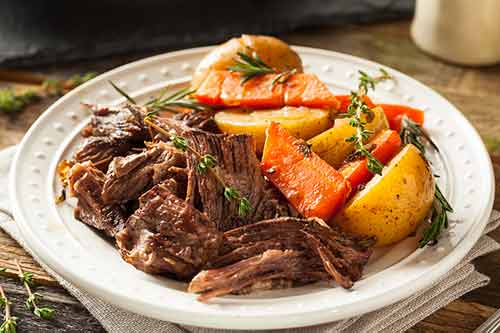 3 lbs. Beef Rump Roast (or Chuck, or shoulder.  Rump tends to be slightly more tender, but any of these will come out terrific!)
1 Tbsp. Olive Oil (extra-virgin, cold-pressed is the most healthful)
1 Medium Onion (diced or minced)
2 Cloves of Garlic (or dried equivalent)
1 Quart Beef Stock
½ teaspoon Celery Seed
2 Bay Leaves
1 teaspoon Salt
1 teaspoon Ground Pepper
1 teaspoon Marjoram spice
¼ teaspoon Thyme (a couple of shakes, or a pinch)
2 Cups Potatoes (diced)
2 Cups Carrots (diced)
2 Stalks Celery (diced)
1 Cup Diced Tomatoes (fresh or canned) – Optional
3 Tablespoons Flour for thickening Gravy
Add oil to pot, and set to 'Brown'. Add the Onion, Garlic, and the Roast. Quickly sear all sides of the meat. Add all the spices to the pot: Liquid Beef Stock, Celery Seed, Bay Leaves, Salt, Pepper, Marjoram, and Thyme.
Pot Roast Cooking Time:
Install the cover, set the pressure cooker to High, and set the Timer to 45 minutes.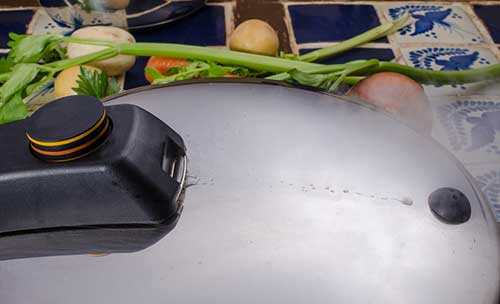 While the Roast is cooking, wash and dice your vegetables to get them ready. When the cook time is finished, remove the Roast from the pot, slice the meat and cover to keep warm.
Add all the Vegetables to the pot in the liquid Stock. Install the cover, set the pressure cooker to High, and set the Timer to 20 minutes. When finished, remove the vegetables and keep warm.
Now let's thicken the gravy. Add about 3 tablespoons of Flour to the liquid stock. Set the cooker to 'Brown', to bring up the temperature. Stir and simmer until gravy thickens.
Add Meat, Vegetables and Gravy to your plates, and this delicious Pot Roast dinner is served!
Click to see the latest prices of the best-sellers electric pressure cookers at Amazon