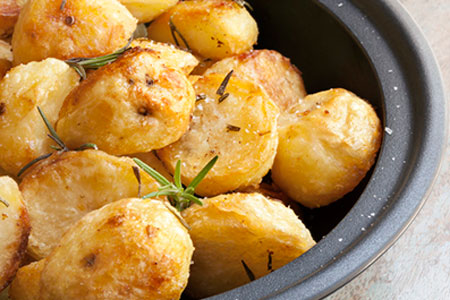 Garlic Steam-Roasted Potatoes are a Delicious and Healthy Addition to Any Meal.  Tender and Spiced Just Right Make the Perfect Garlic Potatoes.
4 Tablespoons Olive Oil (extra-virgin preferred)
2 lbs small Potatoes, or diced into 1" pieces if large (washed, unpeeled)
1 teaspoon Rosemary
2 Tablespoons Parsley
2 tablespoons minced Garlic (about 6 cloves)
1 cup Chicken Stock (or water with concentrated Bouillon paste or cubes)
1 teaspoon Salt
1 teaspoon Pepper
Electric Instructions:
Add Olive Oil to pot, and set to 'Brown'.
Add the Potatoes, Rosemary, Parsley, and Garlic. Turn the potatoes until well coated, and browned. (about 10 minutes).
Pour in the Chicken stock into your electric pressure cooker. Sprinkle Salt and Pepper on top and install the cover.
Set Pressure Button on the Control Panel to "HIGH". Set desired cooking time to 12 minutes.
Turn the unit completely off. Carefully relieve the pressure according to your cookers instructions.
Remove lid. Transfer Potatoes to a large serving dish and garnish with Parsley, if desired.
If you want, you may serve the potatoes as is, or mash them, and add additional seasoning, such as salt, pepper, butter, sour cream, or serve with gravy, as you like.