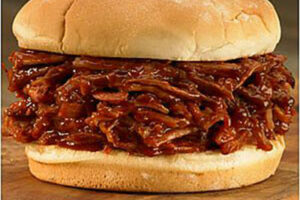 This Pressure Cooker BBQ Pulled Pork is Another Very Easy & Delicious Dinner to Make in Your Pressure Cooker. It's Super Easy and Complete in Less Than an Hour.
Ingredients:
2 lbs. Pork Loin (thawed)
2 cups Chicken Stock
3 cloves Garlic
1 medium Onion
½ tsp. Ground Pepper
Your Favorite BBQ Sauce
Rolls
Pressure Cooker BBQ Pulled Pork:
Set the Pork Loin into the pressure cooker pot. Fold over if you need to. Pour in the Chicken Broth. Add the Garlic, Onion, and Pepper.
Set the pressure cooker to High, and set the Timer to 35 minutes.
When the cooker is finished and depressurized, remove the contents from the pot to a serving bowl, including any bits from the bottom, which have tremendous flavor! Using a pair of forks, shred the very tender meat by pulling it apart.
Pour a good amount of BBQ Sauce over the pulled pork, and mix well. The meat will absorb some of the BBQ Sauce, so add more sauce so that it isn't dry.
Visit our Home Page to see view the latest posts about using your pressure cooker.