Quickly Turn Basic Ingredients and Spices Into Juicy, Super-Delicious Meals For Your Family!
Meals Are Incredibly Fast & Easy With Your Nesco Pressure Cooker. Meal Prep and Cleanup are a Breeze So You'll Enjoy More Free Time for Other Things!
Pressure cooking your food is one of the healthiest ways to cook, because it retains more vitamins and minerals than by any other cooking method. The color of your vegetables remain bright and deep, giving your family the extra nutrients they need.
Pressure cooking preserves flavors, making food tastier, as it speed-cooks tougher, inexpensive cuts of meat into fall-apart tender, juicy masterpieces for your family. It's ideal for making delicious home made soups, stews, chili and more. Cook fish, chicken and vegetables to perfection in minutes.
Energy Efficient
A plug-in electric cooker means you won't have turn on the stove burners during the summer heat. It's all self contained and super efficient. Working on a tiny trickle of electricity, you cook your entire meal for pennies of energy, adding minimal heat to your kitchen in the summer, and always saving you money.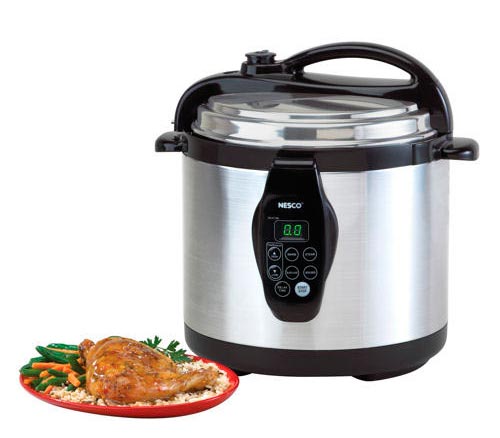 You can run the air conditioner less, and cooking will be more enjoyable, so you'll be happier.
A Pressure Cooker is a sealed and heated, pressurized vessel. As the pressure inside increases, the boiling point of the liquids increase, allowing the temperature to rise higher than normal boiling temperature. This cooks foods up to 70% quicker than conventional methods.
Nesco's cookers cooks food at a full 10 lbs. of pressure on the high setting. Many electric pressure cookers don't pressurize that much and aren't as effective as Nesco's. Any recipe written for a stovetop pressure cooker can easily be prepared 'AS WRITTEN' in these units while using the high pressure setting, so you can take advantage of all the free stove top pressure cooker recipes available. Nesco cookers cook incredibly fast, so it'll free up your time for the things that you want to do.
Time Savings
Get a jumpstart on dinner. Use the programmable digital timer to precisely time the meal to exact times, where you can automatically set it to keep the food warm after cooking, or to turn off. You can also set it to delay cooking for up to eight hours, so that you can throw some ingredients together in the morning and it'll be cooked and ready when you get home later. You can easily program your Nesco cooker, and still be able to attend that event away from home. This is a true set-it and forget it way to cook!
You'll spend much less time and effort fixing your meals. Prep-time is easier and shorter, and cook-time is 3 to 10 times faster than conventional cooking. Cleanup is a breeze, so you'll also spend much less time and effort on cleanup, freeing up even more time for yourself! It's great for busy people like you!
Safe & Easy To Use
No need to worry about scalding. With Cool-touch lid and handles you can move your cooker at anytime while cooking, so you won't accidentally burn yourself.
At any point you can choose to depressurize the cooker automatically, or manually. Either way, a self-locking lid makes sure pressure has dropped to a safe level before allowing the lid to open. You can safely use the quick release method to depressurize the pot so you can add vegetables to the meat, or to can check the food for doneness.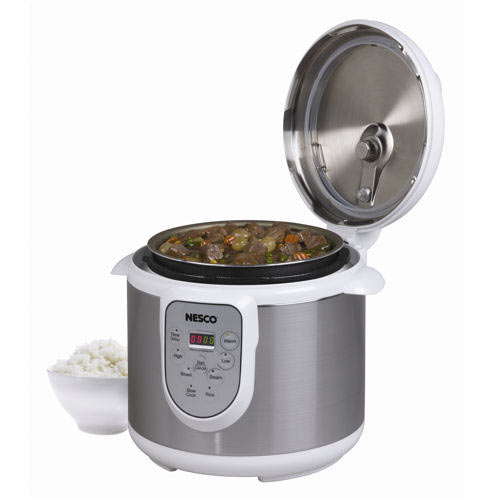 With Nesco's easy-to-program digital timer, you can set it and forget it, knowing you won't under or overcook your meal. It's cooked to perfection every time. Unlike other brands, you have the flexibility to either use the quick timer presets, or the option to program the timer manually, so you're not stuck having to use only pre-programmed settings. This gives you the freedom to set it how you want it.
The easy to read LED display let's you instantly know how much more cook-time is left, so you're not wondering when your food will be done. You can easily time other side foods with the rest meal, and easily time the meal around your family's schedule.
Nesco's Soft Touch buttons gives your cooker an elegant, quality, and comfortable feel.
Nesco Pressure Cookers offer the flexibility of two pressure settings, high pressure to cook denser food like meats and vegetables, and low pressure for less dense food, like fruits. Whether it's the main meal or deserts, you and your family will enjoy delicious dishes, perfectly cooked every time.
The 3-in-1 models, feature three modes, a pressure cook mode, a slow cooker, and a steamer, all in one easy-to-use appliance.
The 4-in-1 models also include a Rice Cooker feature, although you can easily cook rice in the 3-in-1 using the steam function. Save your storage space and money for other things. No need to buy and store all these appliances. You can use the slow cook mode for your favorite crock pot recipes, or use the pressure cook mode to speed things up. Vegetables and rice come out perfectly steamed retaining the most flavors and vitamins!
Convenient Sizes
Although they come in a 4-Liter capacity, the 6-Liter cookers are large enough for a complete family dinner, yet still small enough not to be cumbersome. All models are convenient to use and easy to clean up, giving you more time for yourself.
Easy Cleanup
A removable, non-stick Cooking Pot insert, evenly distributes heat during cooking. For cleanup, remove it from the base. Its non-stick coating is very easy to wash by hand, and is dishwasher-safe, so post-meal cleanup is a breeze, cutting down on cleanup time. It's as easy as wipe, rinse & done, so you'll have more time for the things you want to do.
Special Features
Special features include a Brown function, which allows you to brown cuts of meat before pressure cooking for better flavor. The Steam function brings water to a boil quickly for steaming foods like fresh vegetables and for cooking rice. The Slow cook function acts just like a crock pot, so you can cook your food very slowly to bring out the best flavors.
While programming the cook-time, you can either have it automatically turn off, or you can have it switch automatically to a Warm mode, which will keep your food warm and ready for when you are. This means you can set it and forget it, without worrying about burning. The warm mode also gently re-warms food later on.
A slow cooker can be left unattended all day for many recipes, and due to its safety features and timer, your Nesco can also pressure cook your meals unattended. Just add recipe ingredients in it before leaving and come home to a complete hot meal, ready to dig in to.
These appliances are so versatile that you can use it for all the hundreds, or even thousands of freely available crock pot recipes and pressure cooker recipes! You can gently tenderize meats and vegetables, while retaining the delicious flavors of your ingredients.
With brushed stainless steel exteriors, they're attractive and durable appliances that will save you time and effort.